Pennsylvania Medal of Honor Recipients
of
WORLD WAR I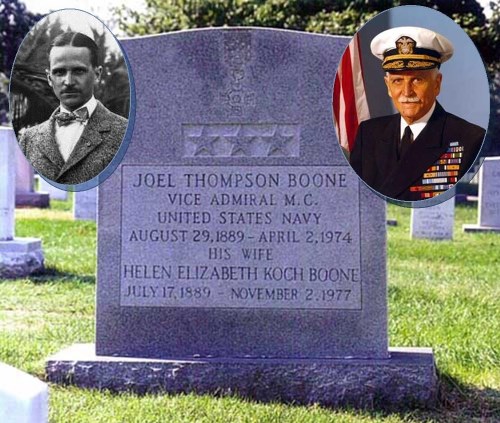 LIEUTENANT JOEL THOMPSON BOONE
1889 - 1974

Rank and Organization: Lieutenant (Medical Corps), U.S. Navy
Place and Date: Vicinity Vierzy, France, 19 July 1918
Entered Service At: St. Clair, PA
Born: 2 August 1889, St. Clair, PA
Buried: Arlington National Cemetery, Arlington, VA
Citation:
For extraordinary heroism, conspicuous gallantry, and intrepidity while serving with the 6th Regiment, U.S. Marines, in actual conflict with the enemy. With absolute disregard for personal safety, ever conscious and mindful of the suffering fallen, Surg. Boone, leaving the shelter of a ravine, went forward onto the open field where there was no protection and despite the extreme enemy fire of all calibers, through a heavy mist of gas, applied dressings and first aid to wounded marines. This occurred southeast of Vierzy, near the cemetery, and on the road south from that town. When the dressings and supplies had been exhausted, he went through a heavy barrage of large-caliber shells, both high explosive and gas, to replenish these supplies, returning quickly with a sidecar load, and administered them in saving the lives of the wounded. A second trip, under the same conditions and for the same purpose, was made by Surgeon Boone later that day.
After the War he would serve as a personal Physician to Presidents Warren G. Harding, Calvin Coolidge, and Herbert Hoover, and gained a reputation of being a champion of patients rights, and a fierce defender and advocate of the highest standards of the Medical Profession. This strict ethical code he lived by often got him into conflict with superiors, who he would never hesitate to oppose if he believed his superior's orders and procedures were morally and ethically wrong. At the end of World War II he went to Japan to press for the release of sick and disabled war prisoners. He was promoted up to Vice-Admiral in the Naval Medical Corps, and after his retirement he served as Chief Medical officer for the Veterans Administration. In 1980 the United States Navy's "USS Boone" (FFG-28), an Oliver Hazard Perry-class guided missile frigate, was launched and named in his honor.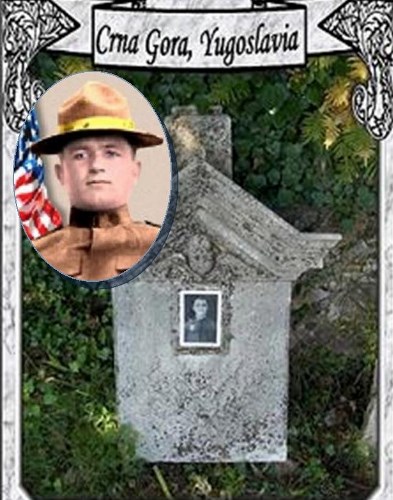 SERGEANT JAMES I. MESTROVITCH

1894 - 1918

Rank and Organization: Sergeant, U.S. Army, Company C, 111th Infantry, 28th Div
Place and Date: At Fismette, France, 10 August 1918
Entered Service At: Pittsburgh, PA
Birth: Montenegro
G. O. No. 20, War Department, 1919
Buried: Crna Gora, Kotor, Montenegro
Citation:

Seeing his company commander Iying wounded 30 yards in front of the line after his company had withdrawn to a sheltered position behind a stone wall, Sgt. Mestrovitch voluntarily left cover and crawled through heavy machinegun and shell fire to where the officer lay. He took the officer upon his back and crawled to a place of safety, where he administered first-aid treatment, his exceptional heroism saving the officer's life.
Upon his death, his body was repatriated to his native Montenegro. He is buried in Sveti Jovan Church Cemetery in Montenegro.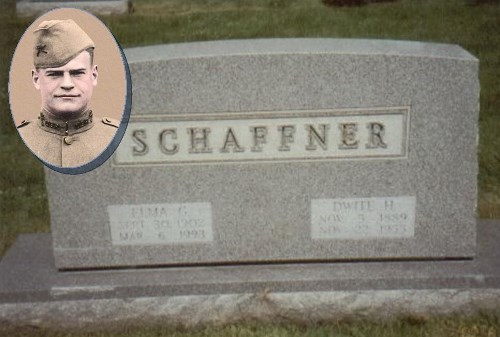 DWITE H. SCHAFFNER
1889 - 1955

Rank and Organization: First Lieutenant, U.S. Army, 306th Infantry, 77th Division
Place and Date: Near St. Hubert's Pavillion, Boureuilles, France, 28 September 1918
Entered Service At: Falls Creek, PA
Birth: Arroya, PA
G. O. No. 15, War Department, 1923
Buried: Rose Hill Burial Park, Akron, OH
Citation:

He led his men in an attack on St. Hubert's Pavillion through terrific enemy machinegun, rifle, and artillery fire and drove the enemy from a strongly held entrenched position after hand-to-hand fighting. His bravery and contempt for danger inspired his men, enabling them to hold fast in the face of 3 determined enemy counterattacks. His company's position being exposed to enemy fire from both flanks, he made 3 efforts to locate an enemy machinegun which had caused heavy casualties. On his third reconnaissance he discovered the gun position and personally silenced the gun, killing or wounding the crew. The third counterattack made by the enemy was initiated by the appearance of a small detachment in advance of the enemy attacking wave. When almost within reach of the American front line the enemy appeared behind them, attacking vigorously with pistols, rifles, and handgrenades, causing heavy casualties in the American platoon. 1st Lt. Schaffner mounted the parapet of the trench and used his pistol and grenades killing a number of enemy soldiers, finally reaching the enemy officer leading the attacking forces, a captain, shooting and mortally wounding the latter with his pistol, and dragging the captured officer back to the company's trench, securing from him valuable information as to the enemy's strength and position. The information enabled 1st Lt. Schaffner to maintain for 5 hours the advanced position of his company despite the fact that it was surrounded on 3 sides by strong enemy forces. The undaunted bravery, gallant soldierly conduct, and leadership displayed by 1st Lt. Schaffner undoubtedly saved the survivors of the company from death or capture.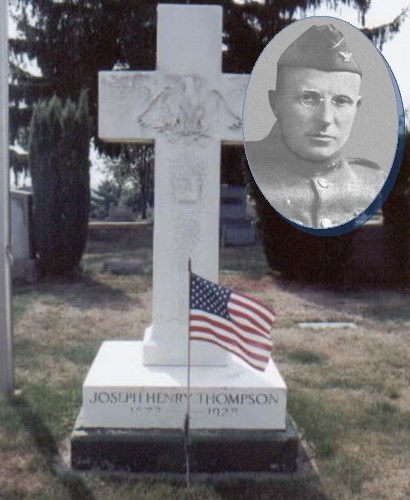 MAJOR JOSEPH H. THOMPSON
1871 - 1928

Rank and Organization: Major, U.S. Army, 110th Infantry, 28th Division
Place and Date: Near Apremont, France, 1 October 1918
Entered Service At: Beaver Falls, PA
Born: 26 September 1871, Kilkeel, County Down, Ireland
G. O. No.: 21, War Department, 1925
Buried: Beaver Fall Cemetery, Beaver Falls, PA
Citation:
Counterattacked by 2 regiments of the enemy, Maj. Thompson encouraged his battalion in the front line of constantly braving the hazardous fire of machineguns and artillery. His courage was mainly responsible for the heavy repulse of the enemy. Later in the action, when the advance of his assaulting companies was held up by fire from a hostile machinegun nest and all but 1 of the 6 assaulting tanks were disabled, Maj. Thompson, with great gallantry and coolness, rushed forward on foot 3 separate times in advance of the assaulting line, under heavy machinegun and antitank-gun fire, and led the 1 remaining tank to within a few yards of the enemy machinegun nest, which succeeded in reducing it, thereby making it possible for the infantry to advance.